Publishing job offers on job boards or other places online means publishing a link to the application form (click here to learn how to create one) on the Career Page, to which candidates will be directed after clicking the link.
You can generate any number of referral links for a given recruitment project.
A referral link can be published in any place on the Internet, such as a posting on a job board, a Facebook group or a forum.
The link will direct a candidate to the details of the job offer or to the application form on the Career page.
The link allows registering the candidate source and assessing the most effective sources.
Generating and copying links
Go to the details of a recruitment project and open the

Dashboard.

Click the Create referral link.

Select the candidate source for the link.
Click on one of the following saving options:

Save button – saves the link that will be visible on the list of referral links.
Save and add publication place – saves the link and lets you insert additional information being the website address to which the link has been added.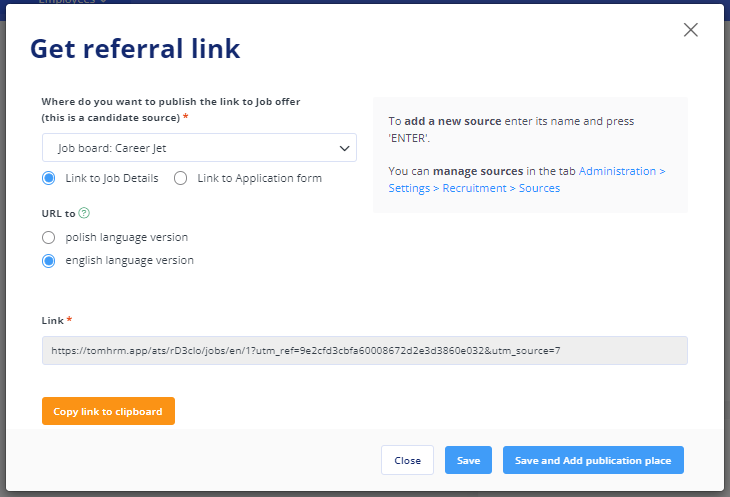 Managing the list of candidate sources
You can edit and add the names of candidate sources in Settings > Settings > Recruitments > Sources.
Candidate source effectiveness figures 
You can view figures on the effectiveness of candidate sources:
in every recruitment project, in the

Dashboard

In the report in

Recruitments > Reports > Hiring efficiency

.