You can see the employees with overdue leave days and the number of such days in the leave balance report.
Step 1
Go to Time Off > Reports > Leave Balances.
Step 2
Select the current reporting year from the Year drop-down menu and the Leave parameter from the Absence type menu.
Step 3
Set the other parameters if required (e.g. the Department or the Employment type), and click on the Filter button.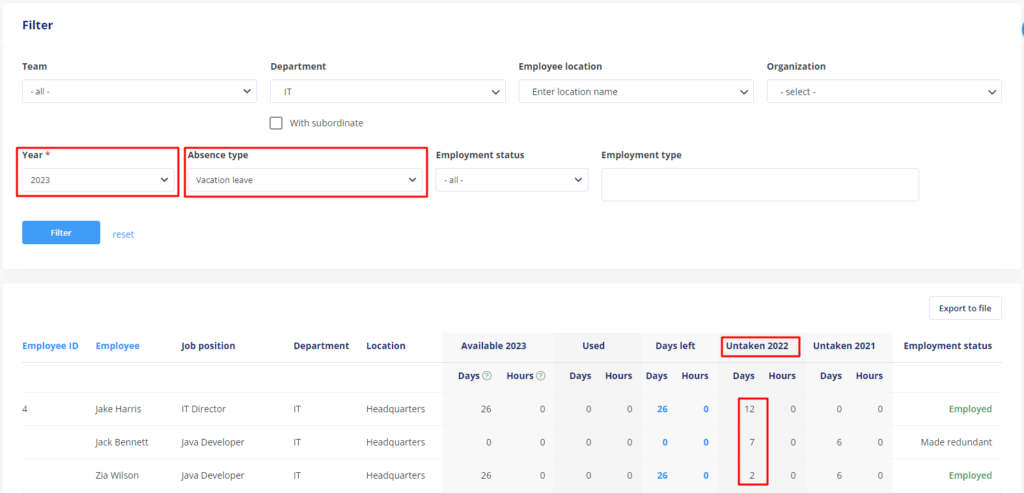 By clicking on the Export to file button on the right side of the report, you can export data to an XLS or CSV file. You can proceed the same way to see the overdue leave days in other leave types (if such other types have been set).
The users authorised to check overdue leave days are set in the settings of access to leave reports in Settings > Settings > Time Off > General.
Please note:
If you don't see the Leave > Reports tab in your profile, it means you don't have the necessary permissions to access it. If your company's internal policy requires you to have such access and you belong to a group that may be granted access to leave reports, please notify the Time off module administrator.
Each employee can also check their own untaken leave days in their profile, under the Time off tab.